FILM VENTURE'S CAMERA ACTING INTENSIVE & SHOWREEL SCENE
2021 OCTOBER CAI COURSE
---
Monday October 4th – Friday October 8th
OCTOBER 2021 COURSE SOLD OUT


If you would like to be placed on the standby list in the event of a place becoming available
please email graham [at] filmventure.co.uk
"The best acting course I have ever done."
"I cannot recommend Graham's Film Acting workshop highly enough."
"Graham is not only a great teacher but a real Actor's Director."
"If I had to describe Film Venture in one word… Magic!"
An Intensive Acting for Camera course with award winning film director Graham Cantwell running over five full length days in Dublin.
At the end of this course you take away a professionally produced scene for your new showreel (see trailer above, watch in HD).
This is far and away our most popular course and is always a great favourite with participants!

CAI OVERVIEW
The Camera Acting Intensive is an Acting for Camera Course with a difference. This Intensive course covers all the basics of what you need to become a successful working film or television actor, plus as a significant bonus you finish up with a professional quality showreel scene – an essential tool for furthering your acting career.
With an emphasis on practical scene work, the process of working intimately with a director and other actors is deconstructed and demystified. After four workshop days of intensive training and rehearsals, the final shoot day is spent filming bespoke showreel scenes on location.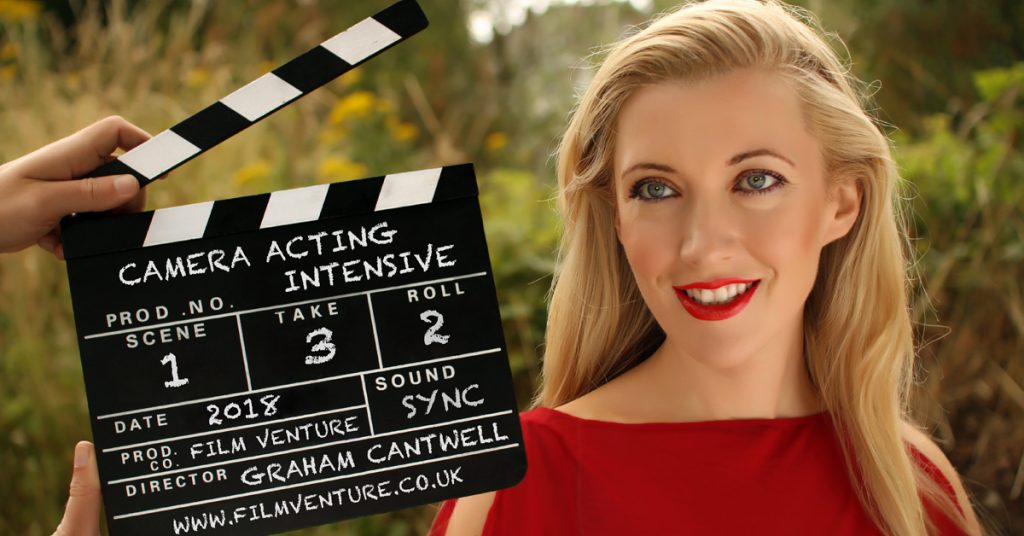 This course is perfect for:
Actors looking to brush up on or develop their camera technique

Actors looking for professionally produced material for their showreel

Models looking to make the transition into acting, or to develop more confidence in front of a camera

Anyone interested in taking up acting for the screen
We always limit our group numbers to a maximum of 10 actors because it is important to us the workshops allow for specific, catered attention to each individual's needs.
The course is designed to refine your approach to working in front of a camera and will culminate in shooting your bespoke showreel scene, which you will receive a professionally edited, sound-mixed and colour-graded copy of for your showreel within a month of finishing the course.

DAY BY DAY BREAKDOWN



SHOWREEL SCENE SHOOTS
In 2009 Film Venture pioneered the idea in Ireland of not merely offering camera acting training, but of providing you the actor with a scene to take away to showcase your talents.
Our bespoke scenes are custom written for you and your scene partner so it is your own completely original scene, not one ripped off from a recognisable source. This means casting directors won't end up comparing your performance to the original movie stars! We write the roles to suit you as an actor and put your best foot forward.
Our scenes are filmed on location with full sound equipment, so stand far above the usual showreel scene services on offer, typically filmed against white classroom walls with poor sound quality.
We go the extra mile including post production on the scenes to ensure the quality of our production values. We count hundreds of satisfied, and successful actors amongst our alumni.
Don't waste your time and money on inferior copycats. Ensure you are in good hands by booking with the original and best. Judge for yourself by watching some of our Showreel Scenes from previous courses on our Youtube channel and read our client reviews on Facebook.


OUR REVIEWS

Be a part of FILM VENTURE'S
CAMERA ACTING INTENSIVE + BESPOKE SHOWREEL SCENE
at The Lab, Foley Street, Dublin 1
10 am – 4.30 pm daily on the dates below
2021 OCTOBER CAI COURSE
Monday October 4th – Friday October 8th
The course costs €425 altogether. This price includes the creation and production of your bespoke showreel scene.
A €180 booking deposit is required to secure your place on the course. Please note that while booking deposits are non refundable, subject to availability and a minimum 3 weeks notice you may transfer your deposit to reserve a place on a later course date should the need arise. Places are strictly limited to a maximum of 10 participants. In the event Film Venture is required to postpone/cancel the course due to Covid restrictions you will of course be issued with a full refund.
The Course Balance of €245 is payable 10 working days before the course begins. We will contact you with your first workshop monologue and a payment reminder at that time.
You are welcome to pay in installments prior to the course and we can accommodate bank transfers/deposits and payments by cheque if you prefer. Contact us if these options suit you. Email graham [at] filmventure.co.uk for details.
Once you have booked you will receive an email with confirmation of your place within 24 hours, followed by your first monologue to prepare.
NB The confirmation email will be sent to the email address associated with your Paypal account, so if this is not your primary email address please send us a message with your usual contact information.
We look forward to working with you!